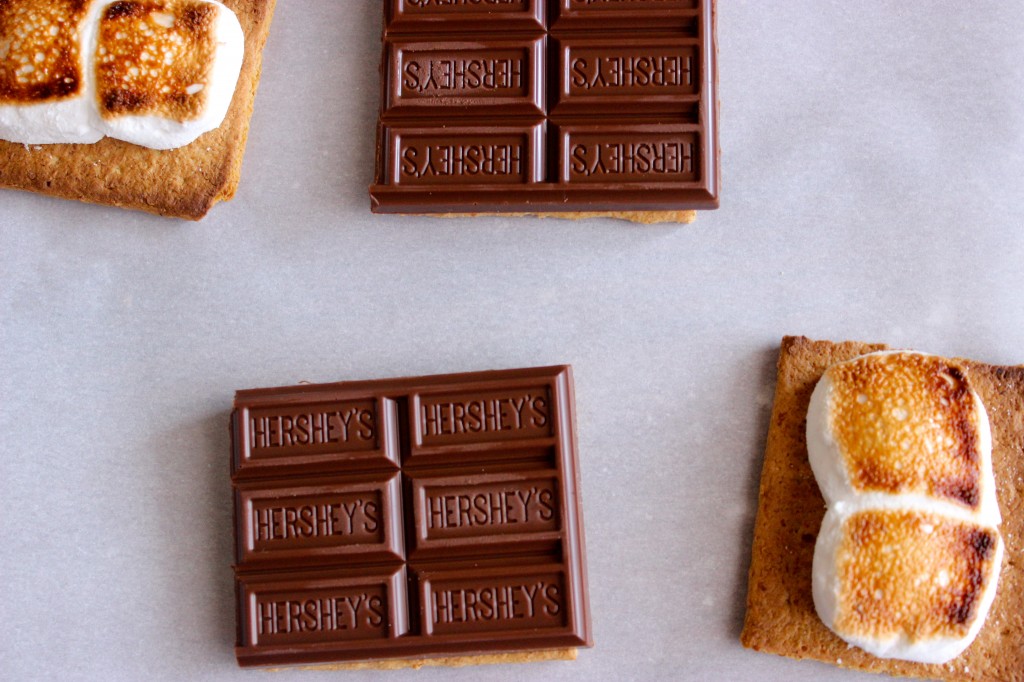 Maillard reaction: the term for a variety of potential reactions (all requiring heat greater than ~280 degrees fahrenheit, amino acids, and sugar), that make food taste delicious and look brown (see above).
It's what happens every time you sear meat (though not when you steam it–the Maillard reaction doesn't love water, because it the boiling point of water is below the heat threshold required for the reaction), and every time you stick a marshmallow under a broiler. The end flavors depend on what food is undergoing the reaction; the steak mentioned above doesn't taste like the marshmallow pictured above, because the amino acids and sugars being exposed to the heat are (obviously) very different.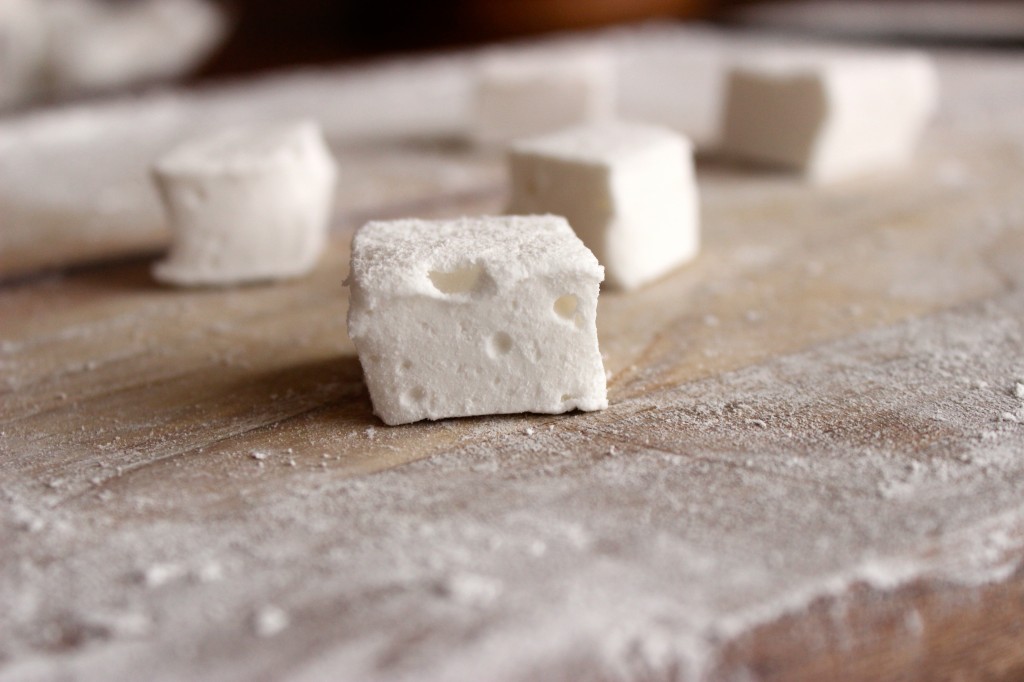 There are a lot more sugars here than there are in steaks, and the sugars here are mixed with gelatin and then coated in cornstarch and more sugar–which makes them really, really amenable to browning/the Maillard reaction.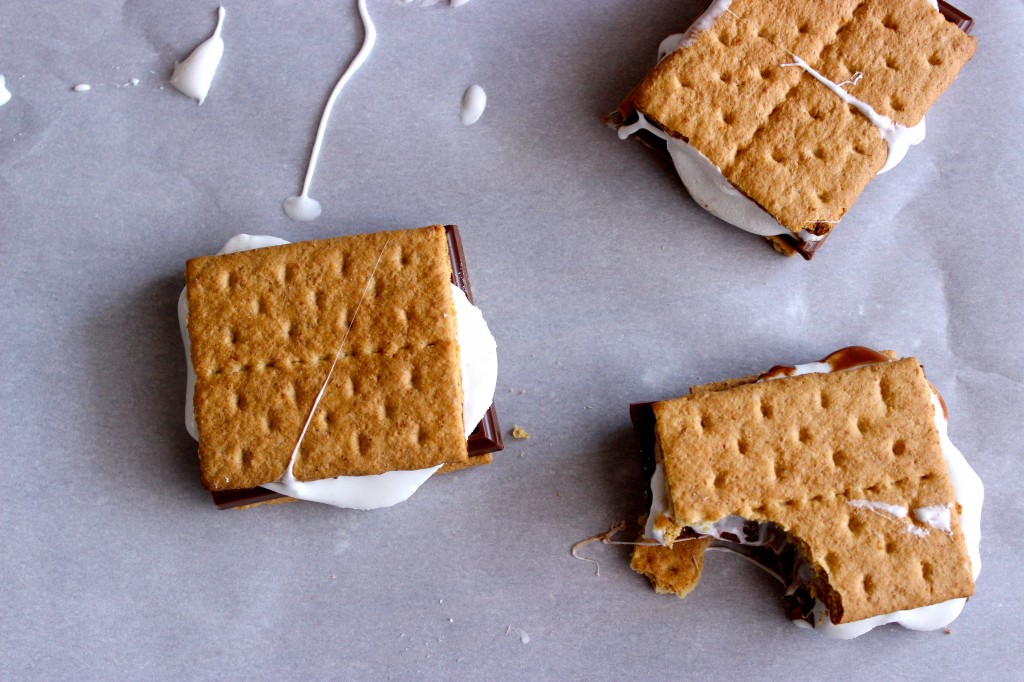 You don't have to brown your marshmallows into furanone-laden pockets of bliss, but I think you should.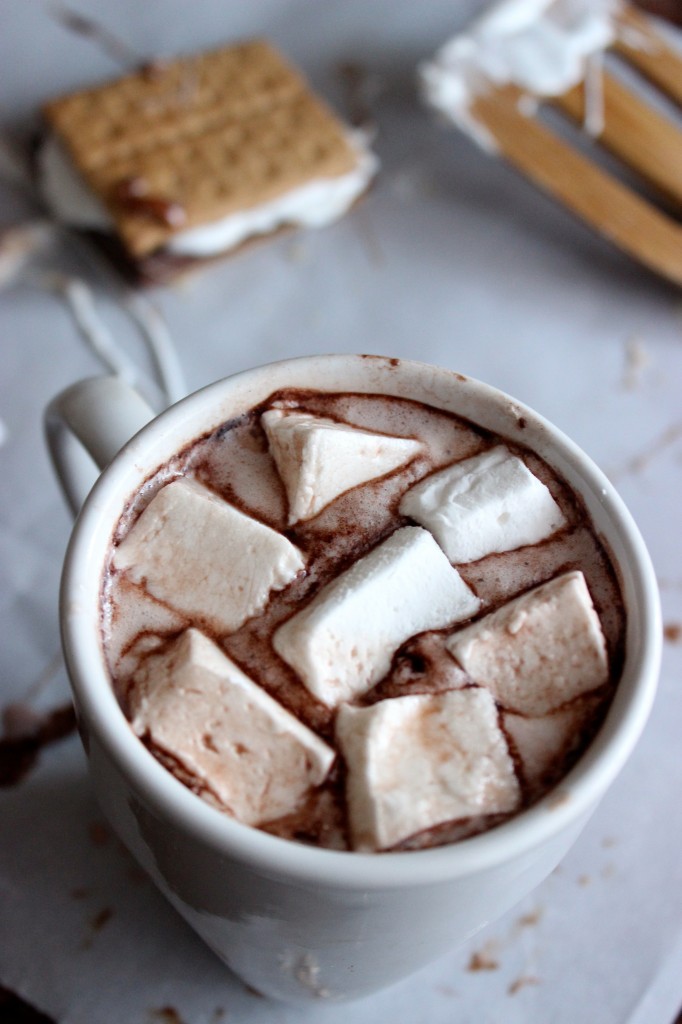 And you don't have to use marshmallows as an excuse to geek out over the Maillard reaction, but I kind of think you should do that, too (this site is good for that).
NOTE: there is no way to make these without making a huge mess. It's worth it, by a factor far greater than the convenience of opening a bag of Kraft Jet-Puffed. I recommend the liberal use of cooking spray and cornstarch.

Homemade Marshmallows
For this recipe, you'll need a candy thermometer, in addition to the ingredients listed below.
Author: Recipe from the Joy of Cooking cookbook
Ingredients
¼ cup cornstarch
¼ cup powdered sugar
1 cup water, divided
4 packets (3 tablespoons) unflavored gelatin
¾ cup light corn syrup
¼ teaspoon salt
2 cups white granulated sugar
2 tablespoons vanilla
Instructions
Line a 13x9 inch pan with aluminum foil and spray with cooking oil. Combine the cornstarch and powdered sugar, and dust the coated pan. Tap excess into a small bowl and set aside for dusting the marshmallow tops.
In a large bowl, or the bowl of a stand mixer, sprinkle 3 tablespoons (4 packets) unflavored gelatin over ½ cup cold water, set aside. This will "bloom" or solidify as the sugar mixture is prepared.
In a medium saucepan, pour corn syrup and ½ cup water. Add the sugar and salt to the center of the pan.
Bring mixture to a boil over medium heat, swirling the pan occasionally (do not stir). When the mixture is 240-244 degrees fahrenheit on a candy thermometer ("soft ball" stage), remove from heat.
Start the stand or hand mixer on a slow speed, breaking up the gelatin. Add the hot sugar syrup in a slow but steady stream.
Beat mixture on "high" for 12-15 minutes, or until the mixture is white, glossy, fluffy, and stiff, but still warm.
Using a greased or oil-sprayed spatula, transfer the marshmallow mixture into the prepared pan. Tap the pan a few times--air bubble should rise to the top of your mixture, though they may not pop.
Allow mixture to set until cooled completely, at least 6 hours.
Using the reserved cornstarch/powdered sugar, dust your work surface and the top of the set marshmallows. Turn the marshmallow out onto a cutting board or work surface.
Cut into cubes with greased kitchen shears or a greased chefs knife before tossing in powdered sugar (to prevent sticking). Marshmallows will keep in an airtight container, at room temperature, for up to a week (though they rarely last that long).